Social Media Seminars
What Will I Learn?
Methodology & Concept: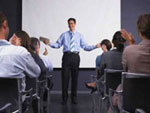 Our social media seminars provide a "Top Down" approach to the methodology & concept behind social media marketing & networks. We teach you how you can apply real world social media strategies for today & tomorrow at our social media "Hands-On" Seminars. The technology and concepts behind this fast growing business evolution along with the overall push/pull premise behind it all is paramount.
---
Detailed Instruction & Hands on:
Our "Round Table" style social media seminar/workshop environments allows us to sit down in specific focus groups to work with our seminar-workshop attendees to implement unique; and/or, specific social media action plans.
---
Tools, Tips & Automation:
We give you the insights, tools & tips for efficiently managing your social portal accounts for yourself &/or your clients.
We provide social media education on analytics, metrics, ROI measuring, social media strategies and a host of other business related social marketing statistical insights.
---
Secrets & Send Offs:
We will share little insider secrets & tweaks that will give you a competitive edge.
Extensive take home materials packed with links, tools, binders & vital reference materials that you will use time and time again in your social media network marketing endeavors. Our social media seminar traing will always be at your fingertips.
---

Next Social Media Seminar

Enroll Today …all spaces fill up fast.

More Social Media Seminar/workshop info is available here.